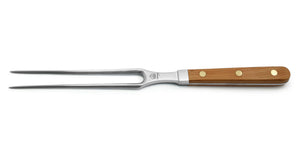 PUMA meat fork, 30 cm
PUMA
Regular price $ 99.99 CAD Sale
Only 1 left In Stock!
SKU:  120011
Product information "PUMA meat fork, 30 cm"
New for 2022 and matching PUMA's kitchen knife series
850001
,
 they have created
 two new meat forks. Like their Solingen series kitchen knives, both of these forks are made of stainless steel according to DIN 1.4116 and have carefully selected yew wood handles.
Compared to smaller cutlery forks, PUMA's meat fork has the advantage of having long, pointed prongs, which allows it to penetrate deep into the meat. This makes it perfect for carving and presenting large pieces of meat.
With a length of either 28 or 30 cm, the forks are also suitable for use as practical helpers when grilling.
Total length: 300 mm
Steel: 1.4116
Weight: 139 g
Scales: yew wood